[Updates an earlier Post from December 30, 2015]
So, you've decided to launch a brand name in the U.S. and are contemplating registering it in the U.S. Patent & Trademark Office ("USPTO").  What can you expect?  Not every application is the same, so there will be variations in exactly what happens in the prosecution of your application, but hopefully this article will serve as a "Trademark 101 Primer" to describe the basic process overall.  (Note – this post is for general information purposes only and does not provide any specific legal advice.  Contact your trademark attorney to discuss any areas of specific concern.)
Basics
What is a Trademark?  It's a word, phrase, symbol or design, or a combination of words, phrases or designs, that identifies and distinguishes the source of the goods of one party from those of others.  A service mark performs the same function as a trademark, but applies to the source of a service rather than of a product.  (For simplicity, this post refers to trademarks and service marks collectively as "trademarks.")
How Valuable is a Good Trademark?  The value of a good trademark lies in its ability to convey to the public a single source of a particular good or service.  The key is to develop a mark unique enough that customers associate it with your goods or services – and only your goods and services.  While temptingly simple, choosing a mark that just describes your goods and services will not create any trademark value.  Customers won't know to distinguish your goods from others in the same market.  Instead, pick something that's arbitrary, or otherwise completely unique.  Even coin a new word or phrase as the new brand for your goods or services.  Avoid choosing words with simple dictionary meanings, which you might be planning to use exactly as they are defined – because the risk is that you may be selecting a generic term, which can never develop any trademark meaning.
Can Rights Develop Based on Use?  Federal registration is not a requirement to protect trademarks in the U.S. – instead, rights in a particular trademark can be established simply based on use in connection with particular goods or services in the marketplace (aka "common law trademark rights").  Nevertheless, federal registration offers more comprehensive protection than reliance upon common law rights, including providing nationwide notice of the owner's claim to the mark and some other valuable presumptions.
Trademark Application Process
Is Pre-Application Searching Required?  No, it's not required, but it's a good idea for a variety of reasons.  See my prior post on Common Questions – Benefits of Trademark Searching for more details.
Overview of the Application Process.  The chart below gives a birds-eye view of each application track (Use-Based vs. Intent to Use-Based; both are described below).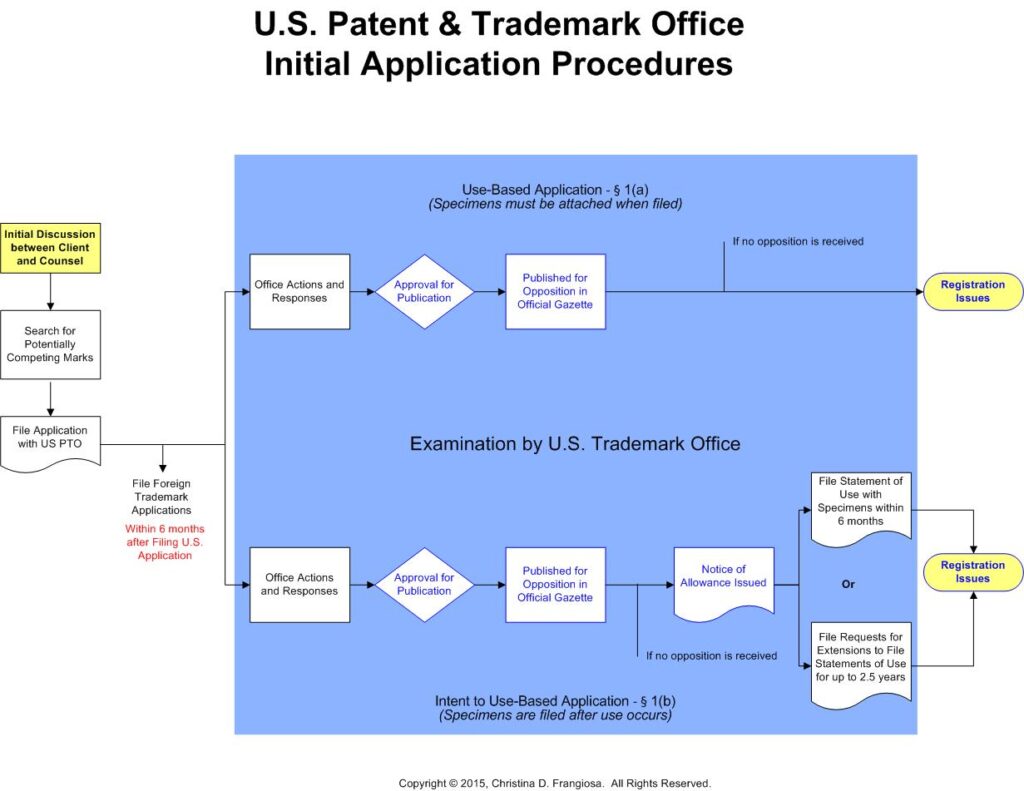 Components of the Initial Application for Registration
One of the first steps in registering a proposed trademarks or service mark is to determine exactly how you are using (or intend to use) a mark and then to determine the applicable class or classes in which the mark should be registered.  An applicant may elect to apply for registration in all of the applicable classes in its first application, or apply for the core classes and wait until later to file in other applicable classes.
1.     
Determining Classes
There are current 45 potential classes (see Nice Classifications) – each one triggering a separate filing fee (see Current Filing Fees).  When you file an application to register a trademark based on a particular description of goods or services (regardless of which classes you designate), you may later clarify, narrow or limit the goods or services covered by the application in connection with that mark – but you cannot expand or broaden them.  Accordingly, it is critical to work out with your trademark lawyer the ways in which you already use the mark, or plan to use the mark, before the application is filed.
2.     
Drawing Page
Every application must include a clear drawing of the mark that you want to register.  This drawing is used by the USPTO to file the mark in the USPTO's search records and to print the mark in the Official Gazette and on the registration certificate.  The representation of the mark must, therefore, appear in the proper format for either a word mark ("standard character") or a design mark (there are several variations, including the use of stylized text, illustrations and/or logos).
If a particular design or style of lettering is embodied in the mark, the drawing must be a substantially exact representation of the mark as it appears on the specimen (or, example) of how the mark appears to consumers or potential consumers in the marketplace.  Color may also be a key feature of the mark – if so, it can be claimed in the application, but note that claiming color restricts your ability to change those colors later without filing a new application.  In general, you are required to stick with the original drawing of the mark as submitted to the USPTO, although there can be some exceptions under particular circumstances.
3.     
Specimen of Use
If you have already started using the mark in commerce in connection with the subject goods or services, the application is said to be based on "use."  If no such use has yet been made, but you have a bona fide intent to use the mark in connection with particular goods or services, the application is an "intent to use" one.
For a use-based application, you must submit a specimen at the time of the application that shows how the mark is actually used in commerce.  This is not the same as the drawing of the mark included on the drawing page. Picking the right specimen can be difficult at times.  You can find more information in the USPTO's guidance materials (TMEP § 904 (Specimens, generally), § 1301.04 (Specimens of Use for Service Marks); Trademark Basics, USPTO Guidance on Drawings and Specimens, and Dealing with Specimen Refusals), but you should also consult with your trademark attorney about the best specimen to use.
If the application is based on a bona fide intent to use the mark, you will have to submit an Amendment to Allege Use or a Statement of Use after you start to use the mark (the choice  between them depends on the timing of submitting the filing – and depends on whether the USPTO has already issued a "Notice of Allowance" after the opposition period has ended) – to demonstrate actual use and to identify the "date of first use."  The USPTO charges an additional filing fee (Current Filing Fees) for either of these two filings.  The current (significant) processing delays at the USPTO may also have an impact on the timing of certain filings, and whether it makes more sense to file early, or to wait after the Notice of Allowance issues.
USPTO Examining Attorney's Review and "Office Actions"
After the USPTO receives your application, an Examining Attorney will review it on a substantive basis – to determine if it can be approved for registration.  This may take several months, and may require several interactions with the USPTO before this phase can be completed.  (The USPTO publishes quarterly updates about its processing timeframes, which will impact how long it will take for an application to mature to registration.)
If the Examining Attorney identifies corrections that need to be made in an application for any reason, the Examining Attorney will issue a letter ("Office Action") explaining any substantive reasons for refusal and any technical or procedural deficiencies in the application.  If only minor corrections are required, the Examining Attorney may contact you or your attorney by telephone or e-mail.  If the Examining Attorney sends a formal Office Action, your response must be received by the USPTO within the initial deadline to respond or the application will be deemed abandoned.  As of December 3, 2022 , Office Actions issued in connection with certain kinds of applications will receive a shortened response deadlines (although extensions of time may be available upon request and payment of an additional filing fee).  For more about the shortened deadlines, and the types of applications to which they apply – which changes take effect on December 3, 2022 or October 7, 2023 (depending on type), see a more fulsome discussion in this prior post.
Among other things the Examining Attorney does upon receiving your application is conducting his or her own search of the USPTO database to determine if a conflict exists, i.e., a likelihood of confusion, between the mark of the application and another mark that is registered or subject to an application already pending before the USPTO.  This kind of conflict can form the basis of a substantive refusal to register.  An Examining Attorney may also refuse registration if the mark is:
primarily merely descriptive of the goods or services;
deceptively misdescriptive of the goods or services;
primarily geographically descriptive;
primarily merely a surname; or
ornamental, or for other similar reasons.
It is impossible to predict accurately how an Examining Attorney will view each application, and opinions even among Examiners may differ widely, but completing some version of a pre-application screening search in advance may give you a "heads up" about potential conflicts before you file.  (More about the Benefits of Trademark Searching can be found in an earlier post on this blog.)
Publication for Opposition
If the Examining Attorney raises no objections to registration, or if you are able to overcome all objections, the Examining Attorney will approve the mark for publication in the Official Gazette, a weekly publication of the USPTO which is released on Tuesdays.  (The live, and searchable, Official Gazette can be accessed here: https://eog-tmng.uspto.gov/).  The USPTO will send a "Notice of Notice of Publication" to you (or your attorney) identifying the anticipated "publication date".  Any party who believes it may be damaged by registration of the mark has thirty days after the publication date to file either an Opposition to registration of your mark or a request for an extension of time to oppose.  Further processing of your application can be delayed up to 180 days after the date of Publication if a potential opposer takes all available extensions to oppose your application (including the final 60-day extension either upon consent of the Applicant or upon a showing of good cause).
If the mark is published based upon the actual use of the mark in commerce and no party files an opposition or requests to extend the time to oppose, the USPTO will normally register the mark and issue a registration certificate within several months after the mark was published.  It is not unusual for this entire process to take between 2-3 years to complete before the Certificate of Registration is issued.  (For more on the USPTO's Current Processing Timelines, visit its pendency dashboard.)
If the mark is published based on an "intent to use" the mark, then the USPTO will issue a "Notice of Allowance", following which you must file evidence of your use of the mark ("Statement of Use") within the initial six months (or during permitted extensions of time to file), demonstrating that use has occurred.  Registration will issue in due course after the USPTO accepts your evidence of use as meeting its requirements.
Identifying the Mark as a Trademark
Anyone who claims rights in a service mark or trademark may use the SM (in the case of a service mark) or TM (in the case of a trademark) designation with the mark to alert the public that the mark owner claims exclusive rights.  It is not necessary to have a registration, or even a pending application, to use this designation.  Although the claim to the mark may be disputed later or you may find someone else has a more senior use and requires you to stop using this designation, the use of the SM or TM may, nonetheless, be used with the mark in advance of any such determination.
The registration symbol, ® , (also called a "Circle-R") may not be used until the USPTO has issued a Certificate of Registration for the mark.  Certainly, a ® should not appear next to the mark in the specimen that you submit to the USPTO with your initial application or Statement of Use, or the USPTO will reject it.
In all cases, the mark should be used consistently in all classes covered by the application so that it can continue to develop significance as a "source indicator" in the classes in which you use it in commerce.  Registrants should take special care to avoid allowing their marks to become fully "household words;" while it might seem appealing at first blush to have a mark deemed a household word (in that this suggests the public has paid attention to your careful marketing and is now keenly familiar with your marks), such development can also result in converting a previously valuable mark into generic term that everyone is free to use to refer to any product or service of a particular type, regardless of where it comes from.   (For more about avoiding genericy, see "How Not to Genericize Brands: 'ZOOM' Calls During COVID" (Sept. 2020).
So How Much Will This Cost?
Attorney fees will differ from firm to firm, and (actually) from application to application because there are so many moving parts.  It is therefore impossible to predict with any certainty how much an application will cost from start to finish.
One component, the USPTO's filing fees, can be budgeted ahead of time because the USPTO uses a published fee table.  (See Current Filing Fees).  Among the most common fees:
Initial Filing Fee to the USPTO – between $250 and $350 per class of goods/services (filing electronically, but depending on the filing options selected);
Statement of Use/Amendment to Allege Use – $100 per class of goods/services; and
Request for Extension of Time to Allege Use – $125 per class of goods/services.
(Beginning Dec. 3, 2022) Request for Extension of Time to File Response to Office Action – $125
Maintaining a Registration
Also note that once a registration issues, it must be maintained or it will be deemed cancelled.  Between the fifth and sixth year anniversaries of registration, declarations of continued use (with acceptable specimens proving continued use of the mark in interstate commerce and the applicable USPTO filing fee) must be filed.  Likewise, renewal filings (with declarations, specimens and fees) are due between the ninth and tenth anniversaries, and every ten years thereafter.  Trademark registrations can be evergreen provided that they are properly maintained and provided that the underlying mark remains in use in commerce in connection with all of the registered goods or services.  Even if the registration lapses, trademark owners may be able to retain some common law rights in the mark as long as it is used as a source-indicator in connection with specific goods and services within the geographic region in which use is maintained.
Other Sources of Information
The USPTO has fantastic resources to explain the basic trademark process and to answer basic questions – intended for business owners and members of the public.  Some examples:
Of course, if you have any specific questions, consult with your trademark attorney to see what options are best for you.